Moroccan Salad with Blood Oranges, Quinoa, Olives, Almonds and Mint
A delicious vegan Moroccan Salad with blood oranges, quinoa, almonds, olives, mint and a tangy, bright blood orange dressing. Perfect for the holiday table, this salad is festive and healthy!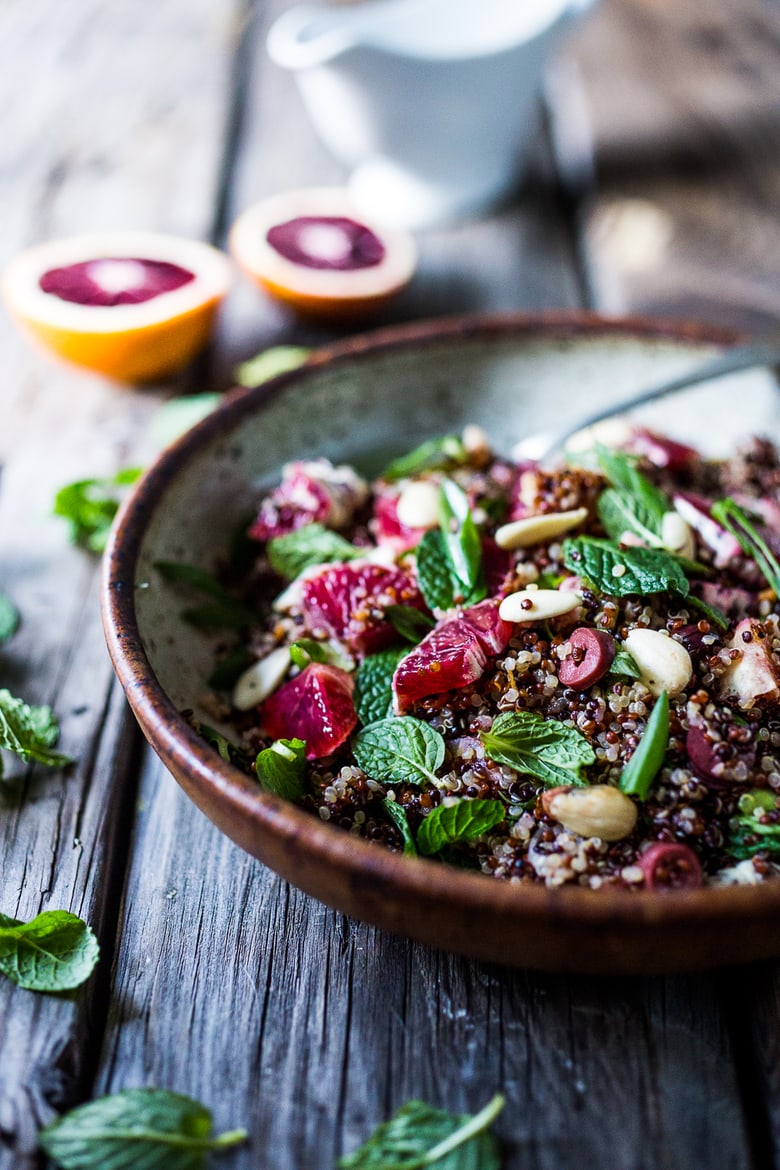 ingredients
1 cup rinsed quinoa
1 ¾ cups water
pinch salt
2 green onions, sliced diagonally
¼ cup thinly sliced kalamata olives
3 blood oranges- divided ( or regular oranges)
¼ cup olive oil
1 tablespoon red wine vinegar (optional)
1 teaspoon honey, maple or sugar
cracked pepper and salt to taste
¼ cup toasted slivered or Marcona almonds
12 fresh mint leaves, torn
instructions
Bring quinoa and water and pinch salt to a boil in a medium pot on the stove. Once boiling, cover and lower heat to low and cook 15 minutes.
In a medium bowl, add sliced green onions, sliced olives, and 2 oranges (peeled, cut into quarters, then sliced). When quinoa is done, fluff with a fork and toss in the bowl with the oranges. Dress with 3-4 tablespoons olive oil, the zest of the remaining orange and its juice. If you don't have a particularly juicy orange, add a splash of vinegar. Stir and taste. The olives with add quite bit of salt, so if you leave them out, be sure to add salt.
Scatter with toasted slivered almonds and fresh torn mint leaves.
Serve this warm, room temp or chilled.
Feel free to make this ahead and adjust seasonings before serving- quinoa has a tendency to soak up the salt and dressing, so I always check right be fore serving – adding more salt or acid if necessary.
notes
Serve with the Moroccan Salmon or  to keep this vegan, coat two pieces of tofu with the spice mix of the Moroccan Salmon, and pan sear. Alternately, you could saute cooked chickpeas with the same Moroccan spices and crisp them up, and serve these over the salad, for a main course vegan version.
By: feastingathome