Roasted Red Pepper And Strawberry Soup
Roasted Red Pepper and Strawberry Soup
Serves 3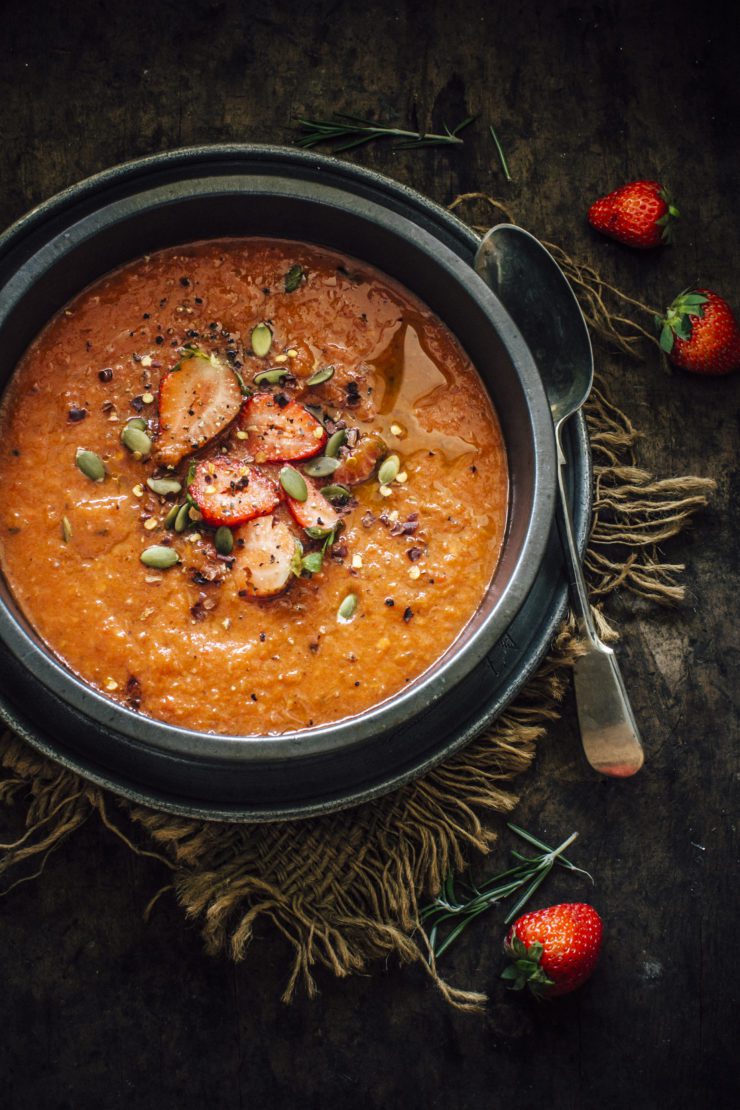 1 tbsp olive oil
1 bay leaf
2 cloves garlic
1/2 red onion, finely chopped
1/2 cup tomatoes, chopped
350 g roasted red capsicum (approx 11/2 cups)
200 g strawberries, washed, hulled, roughly chopped
1 cup chicken stock (or vegetable stock or water)
1 tsp balsamic vinegar
1/2 tsp paprika
1 tsp mixed herbs (dried or fresh)
1 tsp honey
salt and pepper, to season
extra strawberries, to serve
toasted hazelnuts or pumpkin seeds, to serve
extra virgin olive oil, to serve (I used garlic infused)
Heat olive oil in a large saucepan. Add the bay leaf, garlic and onions and fry till onions turn light brown.
Add the tomatoes and stir for a minute. Add the red peppers, strawberries and cook till strawberries turn soft and mushy. Remove from heat and cool slightly (about 10-15 minutes). Using a hand blender (you could do it in the food processor as well), blend the mixture until smooth. If the mixture is too thick to blend, add in a little stock or water.
Place back on the heat. Add the stock, balsamic vinegar, paprika, mixed herbs honey, salt and pepper and stir to mix.
Serve warm with fresh strawberries, toasted nuts/seeds, fresh herbs, a dash of extra virgin olive oil and cracked pepper.

By: sugaretal