VEGAN MEDITERRANEAN UN-TUNA SALAD
This vegan mediterranean un-tuna salad is unbelievably reminiscent of the real thing. Most vegan tuna salads use a base solely derived from mashed chickpeas. Although this version relies on the trusty beans as well, its base gets a helping hand from an unexpected veggie ingredient: artichokes. When pulsed in a food processor, artichoke hearts take on a flaky texture that both looks and feels a whole lot like flaked tuna. Although this vegan un-tuna salad can be made with a strictly artichoke base (i.e., sans beans), I quite like the texture and protein-boost that the combination of artichokes and chickpeas provides.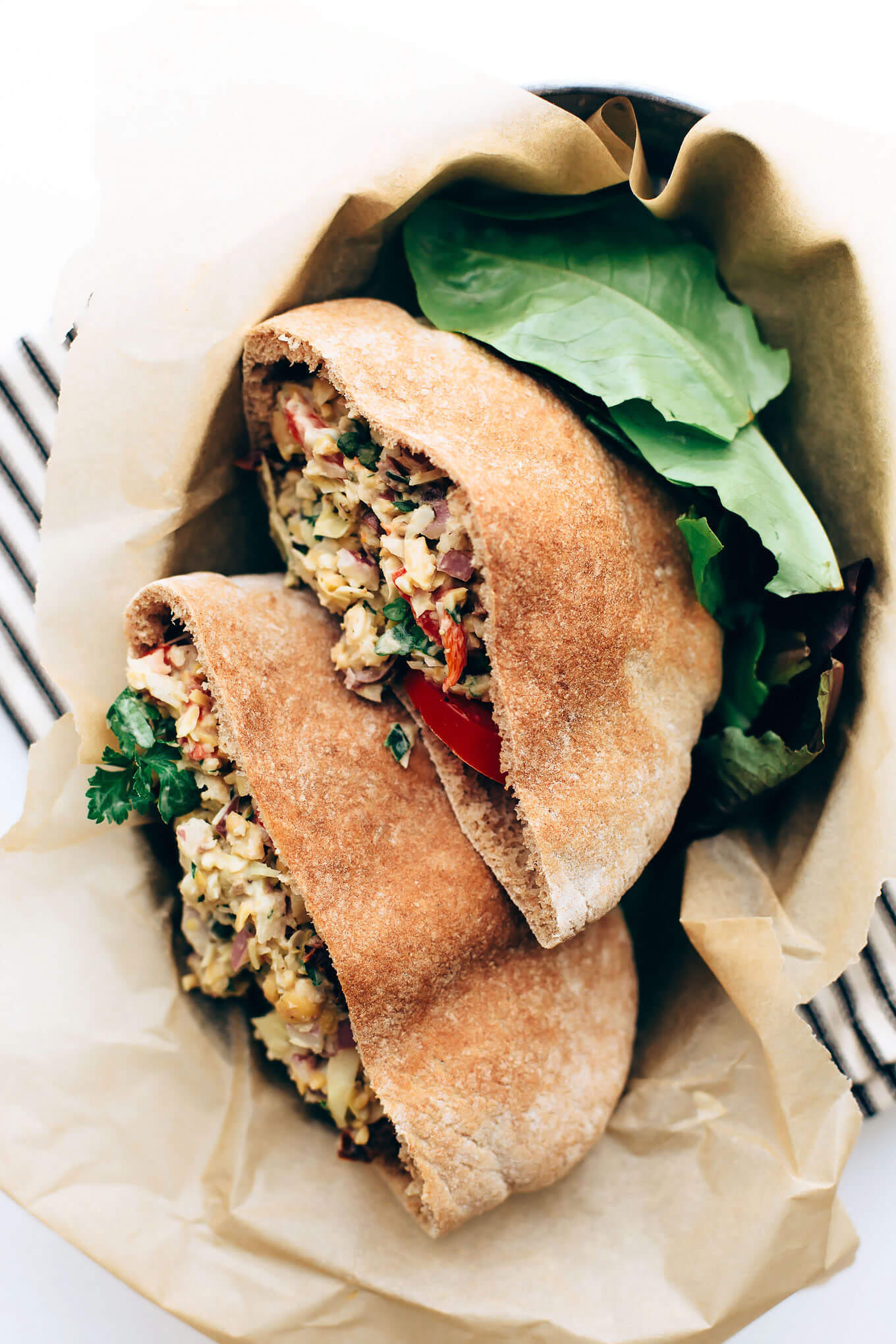 I've always been someone who loves to graze and snack. My inattentive taste buds long for a variety of flavors at every meal, hence the reason there is an entire chapter dedicated to Power Bowls in my cookbook. I'm just about certain this trait was garnered from my sweet mother.
Growing up, I loved accompanying her on grocery shopping trips. Perhaps it was a sign of what was to come or maybe it was simply because it ensured my favorite snacks would end up in the grocery cart.
Either way, one of my favorite parts about shopping with her was when she would stop by the deli counter and pickout a variety of pre-made salads. Once when we arrived home, she'd prepare a feast with a bit of each salad piled on our plates and plenty of crackers, sliced veggies, and warm baguette to accompany the spread.
One of my all-time favorite salads back then was the Mediterranean tuna salad from Whole Foods.
In their version, flaked tuna is lightly dressed with mayo and tossed with a slew of briny, vinegar-kissed ingredients, like capers, olives, roasted red peppers, and the like. For years, I've been wanting to recreate a vegan version, but I knew that a straight-up chickpea base just wouldn't do the salad justice.
Well, in step artichoke hearts.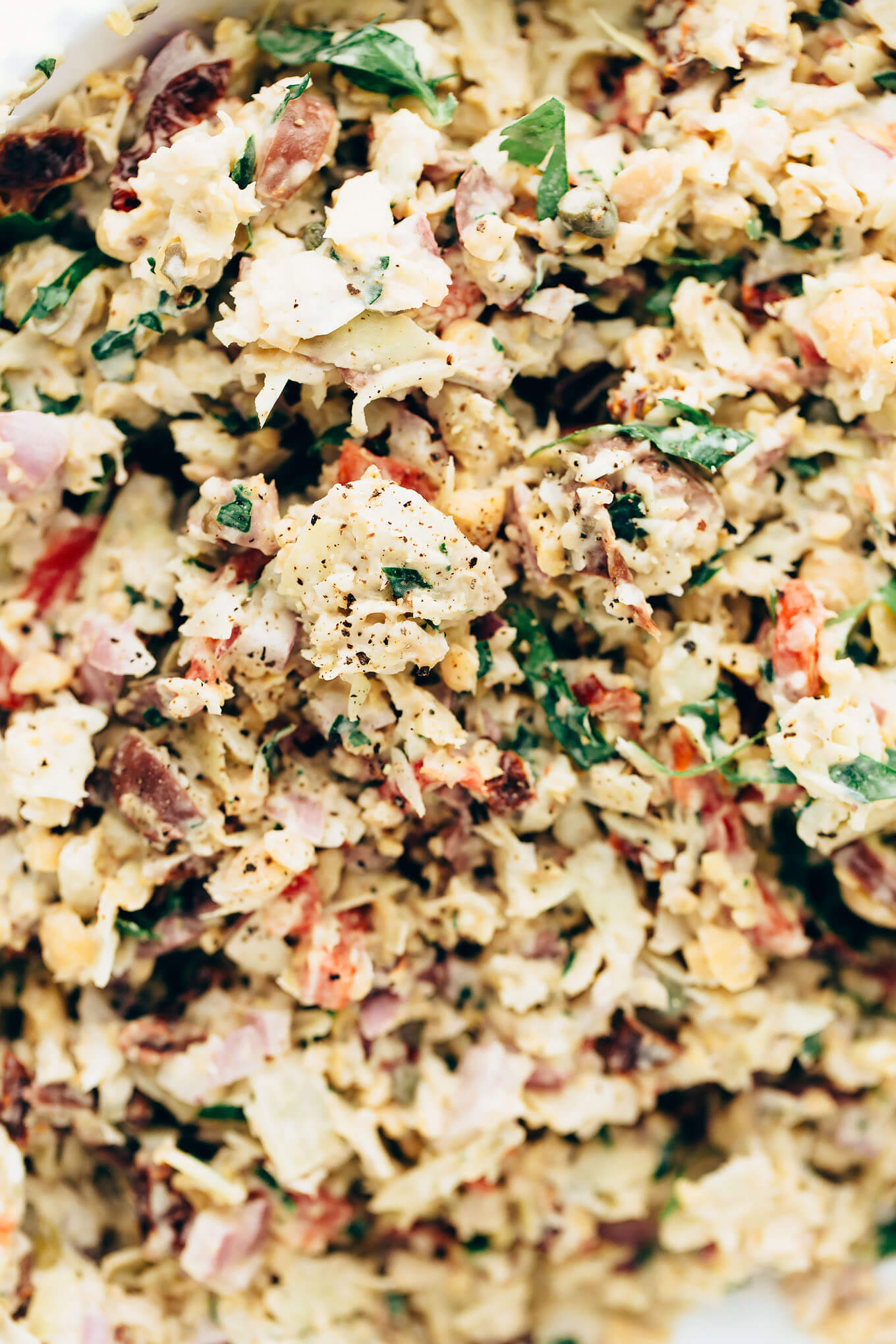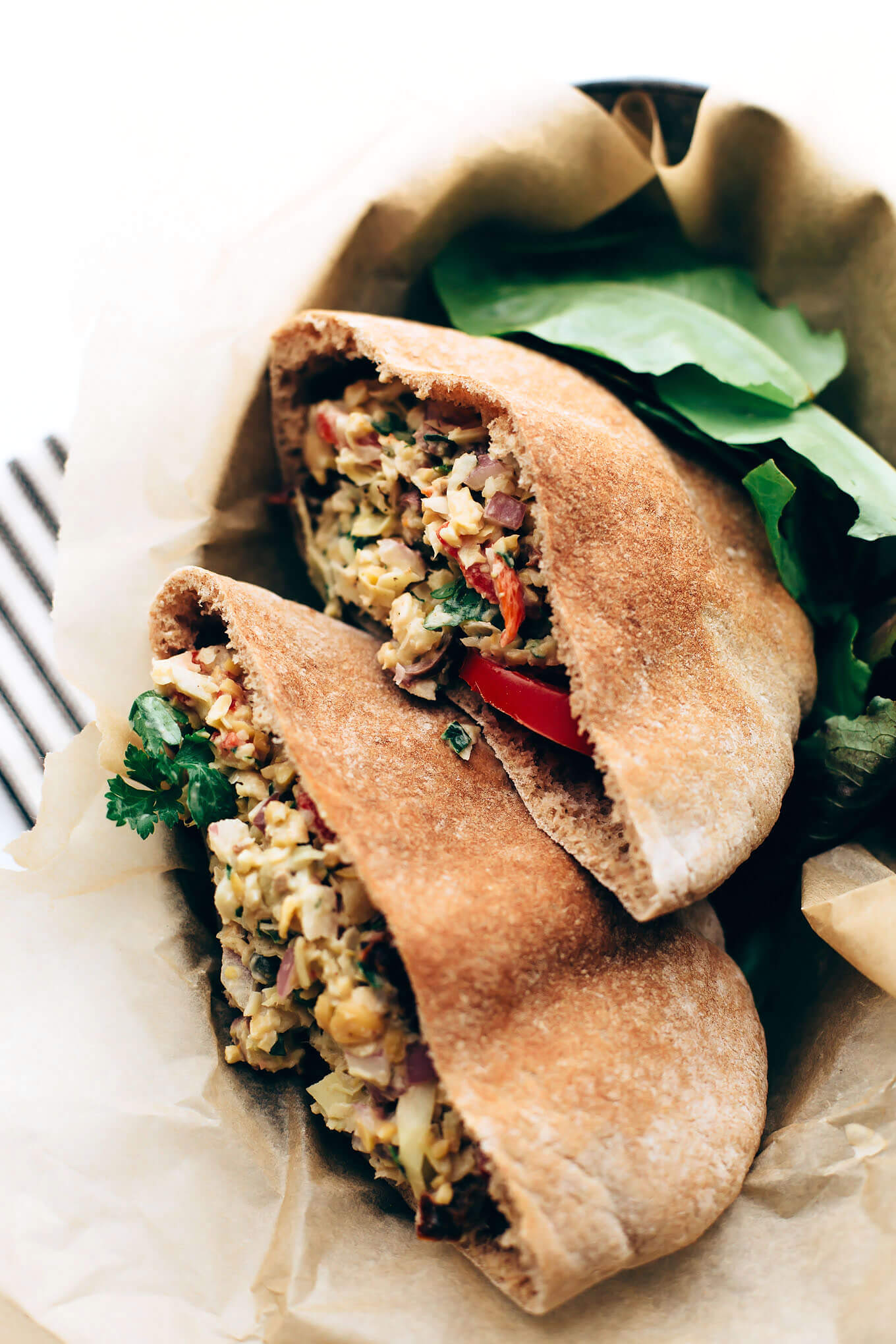 About a month ago, an intense craving for vegan tuna salad struck, but we were fresh out of chickpeas.
While searching the pantry for a suitable replacement, I spotted a can of artichoke hearts and figured what the heck. Perhaps finely chopped artichoke hearts could be a miracle substitute for flaked tuna. Crazier things have happened.
I tossed the artichoke hearts into the food processor and pulsed just a handful of times.
And I'll be darned, the texture looked a whole lot like flaked tuna to me…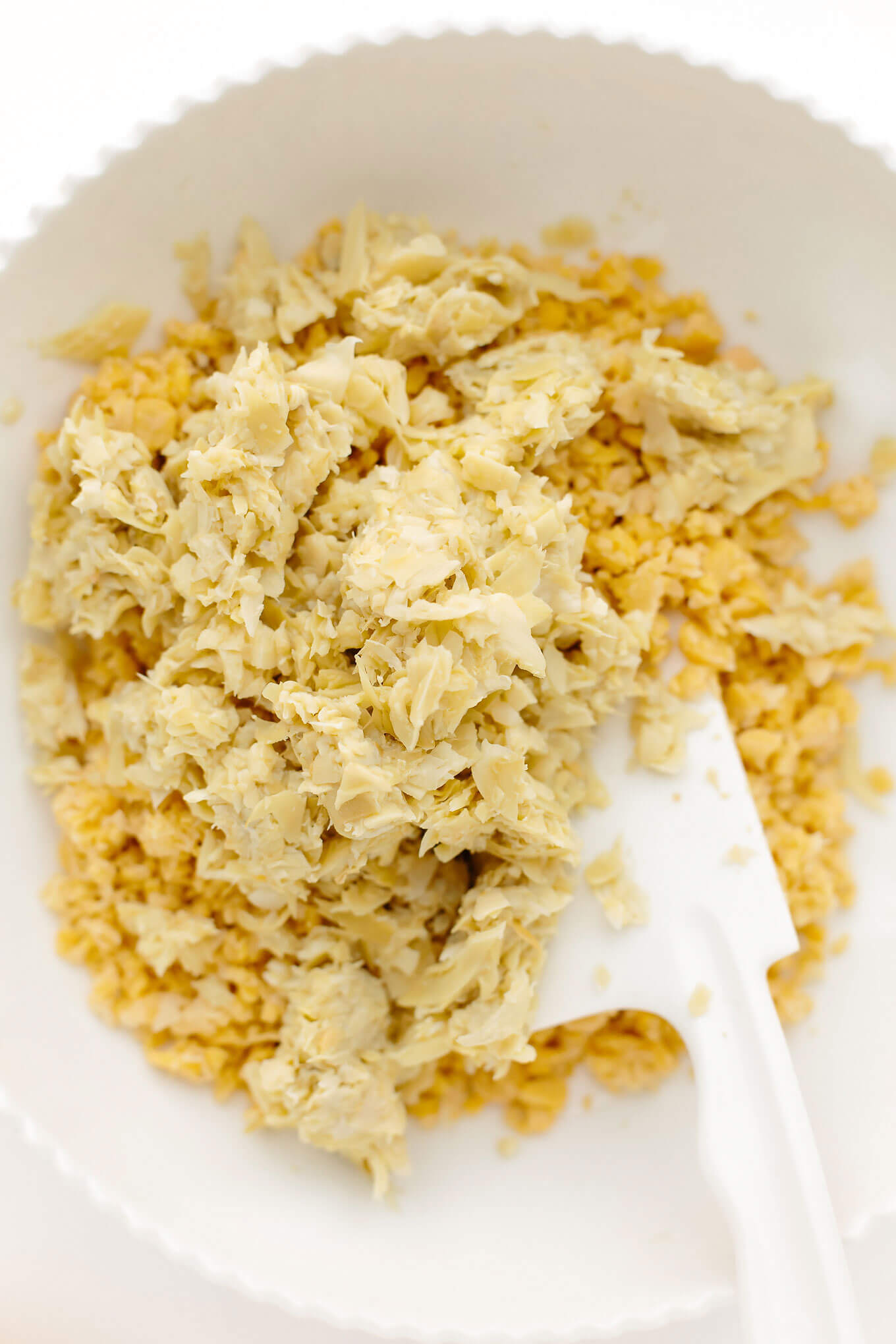 Not only did the chopped artichoke hearts look like tuna, something about their brininess worked incredibly well flavor-wise, too.
Given that Whole Foods' mediterranean tuna salad has artichoke hearts in it, I figured this vegan tuna-like twist would make the perfect base for a knock-off salad.
And it did. It really, really did.
I've been enjoying this vegan mediterranean un-tuna salad by the spoonful, tucking it into pita bread, and scooping it up with crackers on the regular lately, and I'm so excited to share the recipe with you. It's truly everything (un)tuna salad should be:
Briny
Flaked
Dressed with just enough vegan mayo
Tangy
Salty
Veggie-packed
Cruelty Free
Plus, it comes together in less than 30 minutes (easily), and way faster if you're a speedy chopper.
To make it, you'll follow just a few simple steps:
Pulse a can of chickpeas in a food processor until roughly chopped.
Pulse a can of artichoke hearts in a food processor until flaky. Gather the artichokes in your hands or a piece of cheesecloth and press the excess water from them.
Add the chickpeas and artichokes to a serving bowl along with red onion, kalamata olives, roasted red peppers, sun-dried tomatoes, a bit of fresh parsley, capers, vegan mayo (store-bought or homemade), fresh lemon juice, dried oregano, and s + p to taste.
Toss to coat and serve.
This vegan mediterranean un-tuna salad is delicious all on its own, but for a heartier meal I recommend tucking it into pita bread with sliced cucumbers and tomatoes.
Alternatively, serve it between toasted bread or alongside seeded crackers.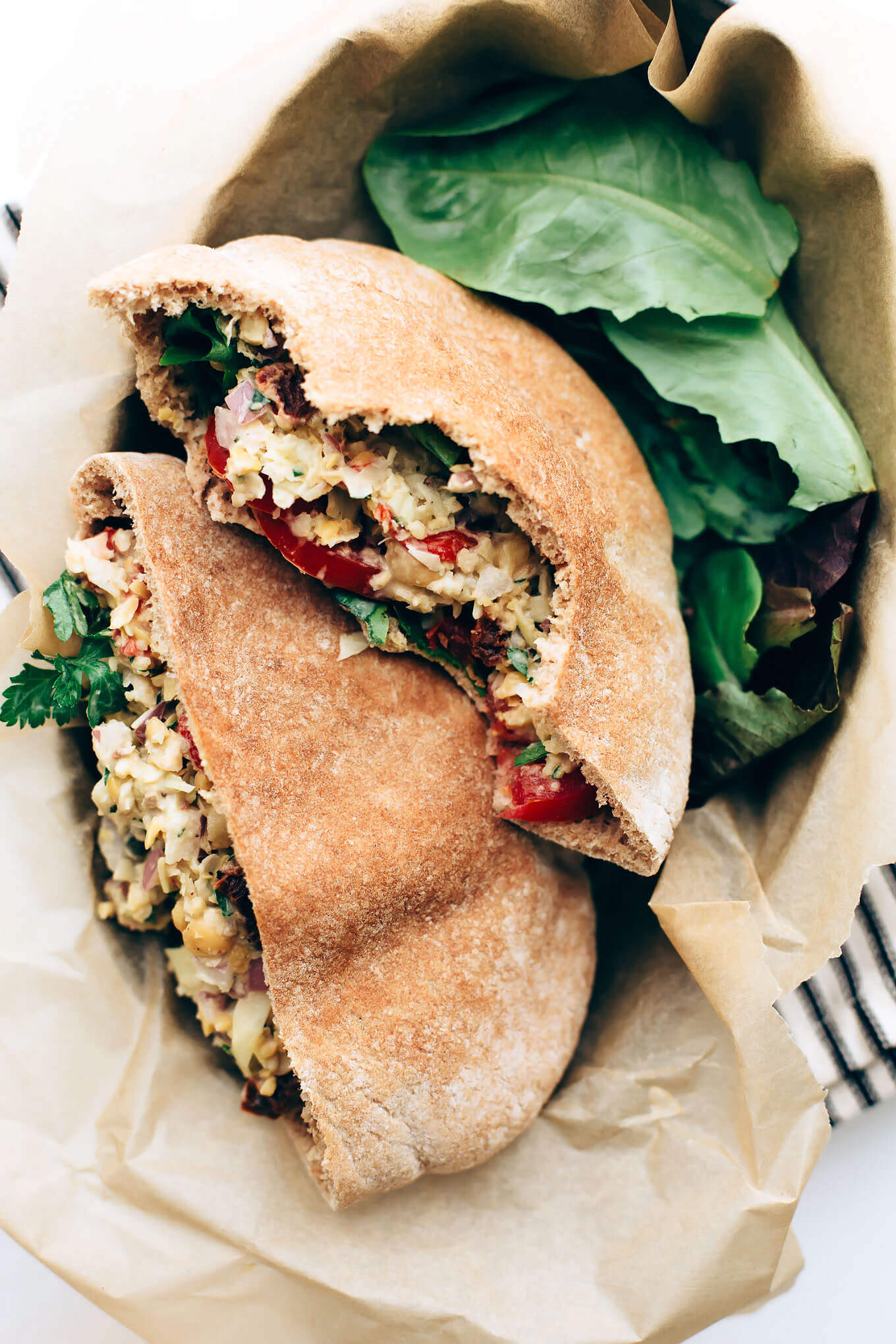 Ingredients
1 (15-ounce) can garbanzo beans, drained and rinsed*
1 (14-ounce) can quartered artichoke hearts, drained
1/2 small red onion, finely diced
1/3 cup kalamata olives, pitted and roughly chopped
1/3 cup drained and chopped jarred roasted red peppers
1/4 cup dry-packed sun-dried tomatoes, chopped**
1/4 cup flat-leaf parsley leaves, finely chopped
1 to 2 tablespoons capers, drained and roughly chopped
1/4 cup plus 2 tablespoons vegan mayonnaise
Juice of 1 lemon, more or less to taste (about 2 1/2 to 3 tablespoons fresh lemon juice)
1/2 teaspoon dried oregano
Sea salt and freshly ground black pepper
Instructions
Add the garbanzo beans to a food processor and pulse 5 to 10 times, or until they're chopped and take on a flaky texture. Do not over-process. Transfer to a large serving bowl.
Next, add the artichoke hearts to the food processor. Pulse about 10 times, or until they're chopped and take on a flaky texture. Carefully gather the chopped artichokes within your hands or within a piece of cheesecloth, and press the excess water from them. They don't need to be completely dry, but you want to release any excess liquid to ensure a more "tuna-like" texture. Add to the bowl with the garbanzo beans.
Stir in the red onion, olives, roasted red peppers, sun-dried tomatoes, parsley, capers, vegan mayonnaise, lemon juice, and oregano.
Season to taste with sea salt and black pepper. (Note: depending on how salty your olives, sun-dried tomatoes, etc. are, you may not need to add much salt.)
Serve on its own, tucked into pita bread, or on top of sandwich bread, baguette slices, crackers, cucumber slices, etc.
Cover and refrigerate leftovers for up to 3 days.
Notes
*For a bean-free version, omit the chickpeas and use 2 cans of artichoke hearts instead. Note: you may need to reduce the amount of mayo if you go this route, so add a few tablespoons, taste, and then reassess/adjust as needed.**If your sun-dried tomatoes are firm or tough, soak them in hot water for at least 15 minutes to soften. Then, drain and chop.
By: Blissfulbasil